FS Horizontal FRP Chemical Pump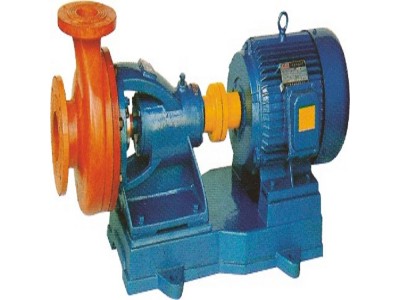 I. Product Overview:
FS type horizontal FRP chemical pump has advanced and reasonable structure design, high standardization, universal parts, strong interchangeability, easy disassembly and maintenance. The components of contact medium are phenolic glass fibers modified by polyvinyl butyral and formed by high temperature moulding. The product has the advantages of light weight, high strength, no distortion, heat resistance, corrosion resistance and so on. In the aspect of anti-corrosion, it can partly replace precious metals such as molybdenum stainless steel, titanium and titanium alloy.
Shaft Seal: WB2 type external F4 corrugated mechanical seal, reliable seal, long use time.
Drive: The pump is driven directly by the motor through the claw elastic coupling.
2. Product uses:
This pump is mainly used in petrochemical, smelting, dyestuff, printing and dyeing, pesticides, pharmaceuticals, rare earth, fertilizer and other industries. It conveys all kinds of non-oxidizing acids (hydrochloric acid, dilute sulphuric acid, formic acid, acetic acid, butyric acid) which do not contain solid particles and are not easy to crystallize, and whose temperature is not higher than 100 degrees centigrade.
3. Type Significance:
For example: FS80 *65-35A
F-Corrosion Resistant Centrifugal Pump
S-Overflow Component is FRP
80-Inhalation Diameter (mm)
65-outlet diameter (mm)
35- lift (m)
A-Impeller Outer Diameter First Cut
Performance parameters of FS horizontal FRP chemical pump:
型号

口径(mm)

流量

(m3/h)

扬程
(m)

电机功率

(kw)

转速
(r/min)

进口

出口

FS25×25-15

25

25

4

15

0.75

2900

FS40×32-20

40

32

6.3

20

2.2

2900

FS40×32-32

40

32

6.3

32

3

2900

FS50×40-16

50

40

7.2

16

2.2

2900

FS50×40-20

50

40

12.5

20

3

2900

FS50×32-25

50

32

12.5

25

4

2900

FS65×50-20

65

50

25

20

3

2900

FS65×50-25

65

50

35

25

4

2900

FS65×50-32

65

50

25

32

5.5

2900

FS80×65-30

80

65

49

30

7.5

2900

FS80×65-35

80

65

45

35

5.5

2900

FS80×65-35A

80

65

43

35

7.5

2900

FS100×65-35

100

65

62

35

11

2900

FS100×80-50

100

80

100

50

11

2900